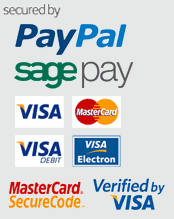 We use Sage Pay, sagepay.com, as our Secure Payment Provider and accept the following methods of payment:
- Visa
- Visa Electon
- Mastercard
Other Payment Methods:
- PayPal
AI Sports Nutrition
The ground work for AI Sports Nutrition started over 35 years ago when a scrawny 12 year old wanted desperately to gain muscle size and strength. After years of hit or miss training and supplements this 12 year old progressed to studying sports nutrition, opening gyms health clubs and supplement stores. But he still wasn't satisfied with what was available and knew he could do better.

He started with a simple idea of using the best ingredients to achieve the best results. That goal became his focus and after many years has become AI Sports Nutrition. A company dedicated to providing cutting edge supplements which work to help you reach your goals every day.
| | | |
| --- | --- | --- |
| (27 products) | Items per page: 12> | Sort by: |
| | | |
| --- | --- | --- |
| (27 products) | Items per page: 12> | Sort by: |
View the current status of your purchase and track parcel online.


Call us and find out what supplements will be best for you! Which supplements you can stack! What to take for shaping and what to take for getting fit!
We utilise multiple transport service as we know this is only way to ensure the FASTEST DELIVERY. Best of all orders over £19.00 are FREE (Standard delivery).
Under £19.00, delivery only £1.95


Shopping online is easy and fast at PowerBody.co.uk.

If you prefer to order over the phone, you can call our team on:
(+44) 01904 520 400
The lines are open Monday to Friday:
8:00am to 5:00pm

Other ways to contact us:
Simply fill out the and we will respond to your ASAP.