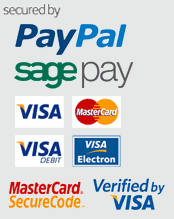 We use Sage Pay, sagepay.com, as our Secure Payment Provider and accept the following methods of payment:
- Visa
- Visa Electon
- Mastercard
Other Payment Methods:
- PayPal
Animal
Lifting is an all out war. This is how you train. But being an Animal is more than just training. It's the way you live. It's an in-your-face attitude few can even comprehend. This is a life devoted to iron.

For over twenty years, Animal packs have been found in the gym bags, lockers and kitchen cabinets of champions all over the world: Mr. Olympia winners, world powerlifting record-holders, and Olympic gold medalists. Why? Because Animal gives you everything you need, and nothing you don't–all conveniently dosed in a clear "pack". No hype, no nonsense, no bullshit. Best of all, there's no guesswork involved. You don't have to stack different supplements together.

They're built right into every can. Because inside every pack of every Animal can, you get complete, time-tested supplements that work.
This is what makes Animal so unique in a world full of hype and gimmicks. With Animal, you get the confidence of a proven track record. After all, Animal has stood the toughest test of all, the test of time. So when you're ready for the next level, turn to Animal, the original hardcore training supplements. The one and only, since 1983.
| | | |
| --- | --- | --- |
| (14 products) | Items per page: | Sort by: |
| | | |
| --- | --- | --- |
| (14 products) | Items per page: | Sort by: |
View the current status of your purchase and track parcel online.


Call us and find out what supplements will be best for you! Which supplements you can stack! What to take for shaping and what to take for getting fit!
We utilise multiple transport service as we know this is only way to ensure the FASTEST DELIVERY. Best of all orders over £19.00 are FREE (Standard delivery).
Under £19.00, delivery only £1.95


Shopping online is easy and fast at PowerBody.co.uk.

If you prefer to order over the phone, you can call our team on:
(+44) 01904 520 400
The lines are open Monday to Friday:
8:00am to 5:00pm

Other ways to contact us:
Simply fill out the and we will respond to your ASAP.