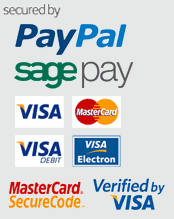 We use Sage Pay, sagepay.com, as our Secure Payment Provider and accept the following methods of payment:
- Visa
- Visa Electon
- Mastercard
Other Payment Methods:
- PayPal
Applied Nutriceuticals
Applied Nutriceuticals are committed to develop, manufacture and market high-performance nutritional supplements that deliver safe, consistent and measurable results. Using most advanced technology and research techniques to continuously pioneer the most effective products in the industry.

They have a state-of-the-art manufacturing facility conforms to FDA-prescribed GMP (Good Manufacturing Practices) criteria for analytical testing, process control, cleanliness and documentation. Dosage charts on each product take away the guesswork and provide reassurance that users are taking a safe and effective amount.

You won't find any pseudo-chemical names or trademarked marketing buzzwords in the ingredient lists. Aiming for customers to know what they are taking so they can make informed decisions about the products and whether or not to take them.
| | | |
| --- | --- | --- |
| (8 products) | Items per page: | Sort by: |
ALL PRODUCTS IN THIS CATEGORY
| | | |
| --- | --- | --- |
| (8 products) | Items per page: | Sort by: |
View the current status of your purchase and track parcel online.


Call us and find out what supplements will be best for you! Which supplements you can stack! What to take for shaping and what to take for getting fit!