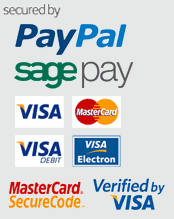 We use Sage Pay, sagepay.com, as our Secure Payment Provider and accept the following methods of payment:
- Visa
- Visa Electon
- Mastercard
Other Payment Methods:
- PayPal
Beverly International
Over 30 years of results. A history of consumer respect.

By putting equal emphasis on research, manufacturing and marketing, BI has continued to deliver what many consumers feel are the most effective bodybuilding supplements available.

In 1967 an effort was made to give the industry a scientific and ethical foundation, nutritional ingredients researcher Jim Heflin founds Beverly International (BI). Heflin establishes strict research, manufacturing and marketing guidelines for BI in order to ensure that its supplements consistently produce results. Bodybuilding athletes and serious fitness enthusiasts quickly become fervid fans of the new brand as it defines a cutting-edge for the industry.

The supplement industry has now advanced on both scientific and ethical grounds. BI remains a cutting-edge leader by rigidly adhering to the same three-part set of guidelines established by Heflin in 1967.
| | | |
| --- | --- | --- |
| (21 products) | Items per page: 12> | Sort by: |
| | | |
| --- | --- | --- |
| (21 products) | Items per page: 12> | Sort by: |
View the current status of your purchase and track parcel online.


Call us and find out what supplements will be best for you! Which supplements you can stack! What to take for shaping and what to take for getting fit!
We utilise multiple transport service as we know this is only way to ensure the FASTEST DELIVERY. Best of all orders over £19.00 are FREE (Standard delivery).
Under £19.00, delivery only £1.95


Shopping online is easy and fast at PowerBody.co.uk.

If you prefer to order over the phone, you can call our team on:
(+44) 01904 520 400
The lines are open Monday to Friday:
8:00am to 5:00pm

Other ways to contact us:
Simply fill out the and we will respond to your ASAP.