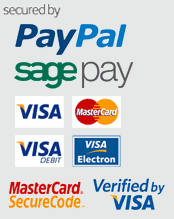 We use Sage Pay, sagepay.com, as our Secure Payment Provider and accept the following methods of payment:
- Visa
- Visa Electon
- Mastercard
Other Payment Methods:
- PayPal
Big Train
The name Big Train was chosen by the founding partners in 1991 because it stood for a thriving enterprise that symbolizes strength and constant motion. Big Train has evolved to become a global foodservice powerhouse brand. The foodservice market leader in Blended Ice Coffee and Chai beverage mixes, Big Train's product portfolio now includes over 200 diverse products, the most complete in the industry. Big Train keeps moving forward, always in search of the next revolutionary drink that's as delicious to drink as it is easy to prepare.

For over 20 years, Big Train has established itself as a worldwide leader in specialty beverage mix products for the foodservice industry while building a top to bottom commitment to excellent customer service. With our corporate headquarters and distribution center in Lake Forest, California, and our nearby manufacturing facility, we are proud of our Made in the USA heritage. Big Train exports its products to over 55 countries including Mexico, Canada, United Kingdom, France, Saudi Arabia, Denmark, Chile, South Korea, Hong Kong, Australia and many others.

In February, 2013, Kerry announced the acquisition of Big Train. Born out of Kerry's desire to enhance the customer experience, Big Train expands Kerry's beverage product solutions, manufacturing expertise, and global reach.
| | | |
| --- | --- | --- |
| (3 products) | Items per page: | Sort by: |
| | | |
| --- | --- | --- |
| (3 products) | Items per page: | Sort by: |
View the current status of your purchase and track parcel online.


Call us and find out what supplements will be best for you! Which supplements you can stack! What to take for shaping and what to take for getting fit!
We utilise multiple transport service as we know this is only way to ensure the FASTEST DELIVERY. Best of all orders over £19.00 are FREE (Standard delivery).
Under £19.00, delivery only £1.95


Shopping online is easy and fast at PowerBody.co.uk.

If you prefer to order over the phone, you can call our team on:
(+44) 01904 520 400
The lines are open Monday to Friday:
8:00am to 5:00pm

Other ways to contact us:
Simply fill out the and we will respond to your ASAP.