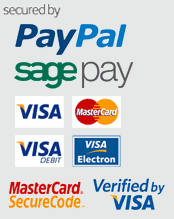 We use Sage Pay, sagepay.com, as our Secure Payment Provider and accept the following methods of payment:
- Visa
- Visa Electon
- Mastercard
Other Payment Methods:
- PayPal
Detour
Detour is owned and manufactured by Forward Foods LLC, which produces and markets high protein bars and shakes. Detour was launched in October, 2002, with the goal of revolutionizing the world of high-protein snack bars.

It began with whey protein, the highest-quality protein available, which contains all the essential amino acids for muscle recovery and repair. And, then the focused was put on making the most delicious bars possible. The results are award-worthy!

The Original Detour Protein bars, Lower Sugar bars, and Lean Muscle bars & shakes all prove that you can have it all: outstanding performance and great taste.
| | | |
| --- | --- | --- |
| (0 products) | Items per page: | Sort by: |
| | | |
| --- | --- | --- |
| (0 products) | Items per page: | Sort by: |
View the current status of your purchase and track parcel online.


Call us and find out what supplements will be best for you! Which supplements you can stack! What to take for shaping and what to take for getting fit!