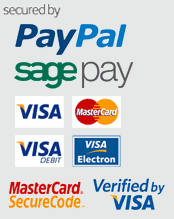 We use Sage Pay, sagepay.com, as our Secure Payment Provider and accept the following methods of payment:
- Visa
- Visa Electon
- Mastercard
Other Payment Methods:
- PayPal
Dreamfields
With all the news these days about the increasing levels of chronic illnesses, such as diabetes, obesity, cardiovascular disease, and certain types of cancer, many of us are starting to take steps to live healthier, more active lives. As part of that focus, there's been a huge influx of "low carb" programs and products. But the available choices haven't been memorable - you either have to sacrifice foods you love, such as pasta, or try "low carb" substitutes that really don't taste like the real thing.

That's why Dreamfields developed the idea of "Healthy Living," where you make sensible choices about what you eat and choose foods where you don't have to sacrifice great taste to live a healthier life. And, knowing how much people loved pasta, this is where it began. The aim was to make a pasta that the whole family could eat, even if someone wasn't watching their carbs, and that's how Dreamfields was born.

Dreamfields developed a new recipe for making pasta that would give us the satisfying taste and qualities of pasta we love, with only 5 grams of digestible carbs per serving. The recipe, combined with the process for making the pasta, results in fewer carbohydrates being digested, plus has similar health advantages to consuming whole grains.
| | | |
| --- | --- | --- |
| (2 products) | Items per page: | Sort by: |
| | | |
| --- | --- | --- |
| (2 products) | Items per page: | Sort by: |
View the current status of your purchase and track parcel online.


Call us and find out what supplements will be best for you! Which supplements you can stack! What to take for shaping and what to take for getting fit!
We utilise multiple transport service as we know this is only way to ensure the FASTEST DELIVERY. Best of all orders over £19.00 are FREE (Standard delivery).
Under £19.00, delivery only £1.95


Shopping online is easy and fast at PowerBody.co.uk.

If you prefer to order over the phone, you can call our team on:
(+44) 01904 520 400
The lines are open Monday to Friday:
8:00am to 5:00pm

Other ways to contact us:
Simply fill out the and we will respond to your ASAP.