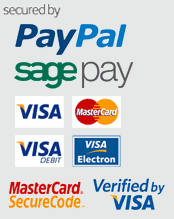 We use Sage Pay, sagepay.com, as our Secure Payment Provider and accept the following methods of payment:
- Visa
- Visa Electon
- Mastercard
Other Payment Methods:
- PayPal
Enzymatic Therapy
The Laboratory and Quality Assurance Department monitor and test ingredients throughout the manufacturing process.

Before processing any raw material, the material is held through a "quarantine" period. Tested through a variety of inspection processes, including High Performance Liquid Chromatography (HPLC), Atomic Absorption Spectroscopy (AA), and other chromatographic techniques, along with microbiological analysis, to ensure the purity of every ingredient.

Many enzymatic supplements use extracts as ingredients from a variety of extraction processes, including: hot water extraction, alcohol extraction and super critical CO2 extraction. However raw materials that have been extracted using solvents shown to have adverse health affects will not be used.

Enzymatic labs believe in unrelenting laboratory testing and support of patented and well-researched products. Staying on the cutting edge by virtue of our participation in industry methods development. All research is published in scientific, peer-reviewed journals.
| | | |
| --- | --- | --- |
| (1 products) | Items per page: | Sort by: |
| | | |
| --- | --- | --- |
| (1 products) | Items per page: | Sort by: |
View the current status of your purchase and track parcel online.


Call us and find out what supplements will be best for you! Which supplements you can stack! What to take for shaping and what to take for getting fit!
We utilise multiple transport service as we know this is only way to ensure the FASTEST DELIVERY. Best of all orders over £19.00 are FREE (Standard delivery).
Under £19.00, delivery only £1.95


Shopping online is easy and fast at PowerBody.co.uk.

If you prefer to order over the phone, you can call our team on:
(+44) 01904 520 400
The lines are open Monday to Friday:
8:00am to 5:00pm

Other ways to contact us:
Simply fill out the and we will respond to your ASAP.