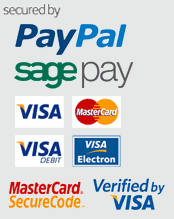 We use Sage Pay, sagepay.com, as our Secure Payment Provider and accept the following methods of payment:
- Visa
- Visa Electon
- Mastercard
Other Payment Methods:
- PayPal
German American
German American is popular and on a rapid rise in gyms, in exclusive health food stores and chains.

German American realize you're serious about your regime, regardless of where you are on your path to reach your ultimate fitness, sports and development goals. Their products make it so much easier to calibrate exactly what's right for you. To get you on a clear, easy-to-follow path to enjoy your success.

Quality is unflinchingly strict, a process that actually begins before they commit to the raw materials. First, an ingredient sample must be accompanied by an appropriate Certificate of Analysis. Then it's subjected to rigorous internal analysis. It is then approved that it meets concentration and purity specifications. Only after this exhaustive upfront scrutiny are the ingredients or compounds accepted.

They follow their German-American roots throughout everything, and always will. their heritage of devotion to brand and product design excellence imbues all product design & development creativity.
| | | |
| --- | --- | --- |
| (8 products) | Items per page: | Sort by: |
| | | |
| --- | --- | --- |
| (8 products) | Items per page: | Sort by: |
View the current status of your purchase and track parcel online.


Call us and find out what supplements will be best for you! Which supplements you can stack! What to take for shaping and what to take for getting fit!
We utilise multiple transport service as we know this is only way to ensure the FASTEST DELIVERY. Best of all orders over £19.00 are FREE (Standard delivery).
Under £19.00, delivery only £1.95


Shopping online is easy and fast at PowerBody.co.uk.

If you prefer to order over the phone, you can call our team on:
(+44) 01904 520 400
The lines are open Monday to Friday:
8:00am to 5:00pm

Other ways to contact us:
Simply fill out the and we will respond to your ASAP.