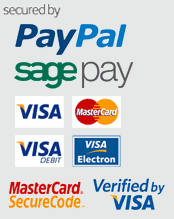 We use Sage Pay, sagepay.com, as our Secure Payment Provider and accept the following methods of payment:
- Visa
- Visa Electon
- Mastercard
Other Payment Methods:
- PayPal
Grenade
GRENADE (UK) Ltd is committed to customers and their athletic and performance goals. GRENADE is only manufactured / assembled in facilities who have achieved ISO9001 / cGMP certification / MHRA approval.

cGMP refers to 'current Good Manufacturing Practice.' The cGMP for supplements set regulations which have the force of law and require that suppliers, manufacturers and packagers take proactive steps to ensure that a product is safe and effective.

Grenade's manufacturers are required to implement processes and procedures that comply with the requirements listed in the applicable GMP guidelines before a product can be released. To enforce compliance, manufacturers can be audited by inspectors at any time. Controls and checks are carried out at all stages of the production process by a highly experienced Quality Assurance Team who cover all aspects of the Quality Assurance Procedures. This ensures a guarantee of label accuracy.

Grenade use the highest quality ingredients and are dedicated to using scientifically supported research as the backbone of each product.
| | | |
| --- | --- | --- |
| (15 products) | Items per page: | Sort by: |
ALL PRODUCTS IN THIS CATEGORY
Grenade

Natural Testosterone Boosters

£250+ Orders:


£30.56

Our price:


£33.95
Grenade

Vitamins & Minerals

£250+ Orders:


£30.11

Our price:


£33.45
| | | |
| --- | --- | --- |
| (15 products) | Items per page: | Sort by: |
View the current status of your purchase and track parcel online.


Call us and find out what supplements will be best for you! Which supplements you can stack! What to take for shaping and what to take for getting fit!