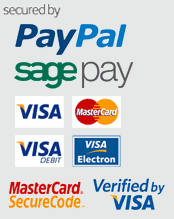 We use Sage Pay, sagepay.com, as our Secure Payment Provider and accept the following methods of payment:
- Visa
- Visa Electon
- Mastercard
Other Payment Methods:
- PayPal
GU Energy
From 1991 until today, athletes the world over have come to the same conclusion: GU works. The Berkeley-based sports nutrition company started with the original GU Energy Gel, a revolutionary and more effective method to keep athletes fueled during exercise. Since then, GU has continued to improve the recipe, incorporating the latest scientific research into its products.

Athletes everywhere appreciate the taste, convenience and performance enhancing benefits of GU Energy products.

The Director of GU of R&D sources only the highest quality ingredients and happily rejects raw materials if they are off spec. He also oversees the production process from soup to nuts, ensuring precision in the mixing process. The production team is comprised of several long-time employees; collectively they boast more than 50 years experience. Together the team has produced tens of millions of packets of GU! As the gatekeepers of day-to-day manufacturing, anything short of perfection just won't cut it for GU.

GU quality control continues when the gel is ready for packaging. Customized machinery, used solely for GU and Roctane Energy Gels, fills each packet with a precise amount of gel - Every box is certain to have the proper number of packets as each is weighed before being sealed and packed for its final destination, your gear bag and ultimately, your mouth.

You can trust that the premium gel you rely on undergoes the most rigorous quality checks in the sports nutrition industry. Every batch of gel is watched over maintaining a production facility that is free from the risk of contamination by foreign substances. Most other gel manufacturers outsource production to third party contract manufacturers where who-knows-what was produced in the previous batch. This can be a serious concern in a supplement business that is lightly regulated and too often not completely above board.
| | | |
| --- | --- | --- |
| (3 products) | Items per page: | Sort by: |
| | | |
| --- | --- | --- |
| (3 products) | Items per page: | Sort by: |
View the current status of your purchase and track parcel online.


Call us and find out what supplements will be best for you! Which supplements you can stack! What to take for shaping and what to take for getting fit!
We utilise multiple transport service as we know this is only way to ensure the FASTEST DELIVERY. Best of all orders over £19.00 are FREE (Standard delivery).
Under £19.00, delivery only £1.95


Shopping online is easy and fast at PowerBody.co.uk.

If you prefer to order over the phone, you can call our team on:
(+44) 01904 520 400
The lines are open Monday to Friday:
8:00am to 5:00pm

Other ways to contact us:
Simply fill out the and we will respond to your ASAP.