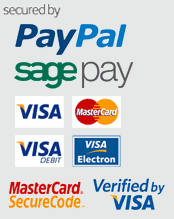 We use Sage Pay, sagepay.com, as our Secure Payment Provider and accept the following methods of payment:
- Visa
- Visa Electon
- Mastercard
Other Payment Methods:
- PayPal
Infinite Labs
At Infinite Labs, we believe in the power of people to redefine and reform their bodies, lifestyle and spirit. By providing the most effective, most comprehensive, best tasting and most useful supplements in the world at an honest value, we do our part to help you meet and exceed your goals.They insist on using only the best and purest ingredients available. Refusing to compromise on the ingredients in the products just to get a bigger profit share.

Infinite Labs follow four basic principles: ingredients must be proven, through our research, to work effectively;No products contain ingredients banned by the International Olympic Committee (IOC); All ingredients are of the highest quality available; and all manufacturers' facilities are GMP approved.Whether you want to increase your endurance, up your muscle reps, get healthier, leaner or stronger, Infinite labs will help you do just that.
| | | |
| --- | --- | --- |
| (11 products) | Items per page: | Sort by: |
| | | |
| --- | --- | --- |
| (11 products) | Items per page: | Sort by: |
View the current status of your purchase and track parcel online.


Call us and find out what supplements will be best for you! Which supplements you can stack! What to take for shaping and what to take for getting fit!
We utilise multiple transport service as we know this is only way to ensure the FASTEST DELIVERY. Best of all orders over £19.00 are FREE (Standard delivery).
Under £19.00, delivery only £1.95


Shopping online is easy and fast at PowerBody.co.uk.

If you prefer to order over the phone, you can call our team on:
(+44) 01904 520 400
The lines are open Monday to Friday:
8:00am to 5:00pm

Other ways to contact us:
Simply fill out the and we will respond to your ASAP.