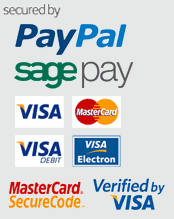 We use Sage Pay, sagepay.com, as our Secure Payment Provider and accept the following methods of payment:
- Visa
- Visa Electon
- Mastercard
Other Payment Methods:
- PayPal
Molecular Nutrition
Founded in 2001 by William Llewellyn, Molecular Nutrition is dedicated to the research, development, and clinical validation of innovative and effective sports nutrition technologies. With several U.S. patents granted and more pending approval, Molecular has designed and produced some of the most effective ergogenic aids the industry has seen to date.

Their primary mission is not the marketing of existing nutritional products, but the inception of exciting new technologies that will have lasting value in the athletic community. Furthermore, we are devoted to the continued funding of independent University clinical studies, which are designed to evaluate and verify the efficiancy of our products under the most rigid of academic standards.

Their products have been studied by some of the most well-known Universities, reviewed in some of the most prestigious sports medicine journals, and licensed by some of the most popular sports supplement companies in the industry today. Always thinking about future opportunities for innovation and success, Molecular Nutrition are one of a select handful of companies that continues to allot a large portion of its income to research and development. They have millions of research documents in their patent portfolio.

| | | |
| --- | --- | --- |
| (6 products) | Items per page: | Sort by: |
RECOMMENDED BY POWERBODY STAFF
ALL PRODUCTS IN THIS CATEGORY
Molecular Nutrition

Natural Testosterone Boosters

£250+ Orders:


£44.78

Our price:


£49.75

Out of stock
| | | |
| --- | --- | --- |
| (6 products) | Items per page: | Sort by: |
View the current status of your purchase and track parcel online.


Call us and find out what supplements will be best for you! Which supplements you can stack! What to take for shaping and what to take for getting fit!