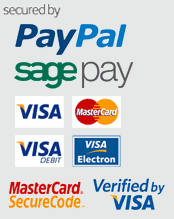 We use Sage Pay, sagepay.com, as our Secure Payment Provider and accept the following methods of payment:
- Visa
- Visa Electon
- Mastercard
Other Payment Methods:
- PayPal
MuscleTech
Lovate Health Sciences, Inc. market a popular brand of sports nutrition products and ingredients, available in over 50 countries world wide. These quality products are distributed as Muscletech Supplements.

Unflinching commitment to science and research as a means to producing the best supplements in the world has been the backbone of the #1 Selling Bodybuilding Supplement Brand in America since the emergence of MuscleTech supplements back in 1995. MuscleTech is a brand name synonymous with premium-quality, top-of-the-line products that span more than a decade.

Groundbreaking, high-quality supplements have been created, over 30 U.S. and 50 worldwide patents have been acquired and tons of professional athletes and bodybuilders have flocked to Team MuscleTech for researched and scientifically advanced formulas. As a result, you can rest assured that providing you with the highest quality supplements.
| | | |
| --- | --- | --- |
| (46 products) | Items per page: 123> | Sort by: |
| | | |
| --- | --- | --- |
| (46 products) | Items per page: 123> | Sort by: |
View the current status of your purchase and track parcel online.


Call us and find out what supplements will be best for you! Which supplements you can stack! What to take for shaping and what to take for getting fit!
We utilise multiple transport service as we know this is only way to ensure the FASTEST DELIVERY. Best of all orders over £19.00 are FREE (Standard delivery).
Under £19.00, delivery only £1.95


Shopping online is easy and fast at PowerBody.co.uk.

If you prefer to order over the phone, you can call our team on:
(+44) 01904 520 400
The lines are open Monday to Friday:
8:00am to 5:00pm

Other ways to contact us:
Simply fill out the and we will respond to your ASAP.