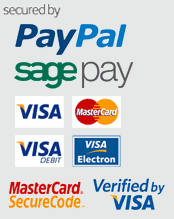 We use Sage Pay, sagepay.com, as our Secure Payment Provider and accept the following methods of payment:
- Visa
- Visa Electon
- Mastercard
Other Payment Methods:
- PayPal
Nature\'s Best
Natures Best are serious about the science behind supplements and so only include nutrients in the formulas at relevant levels. This means at levels that will make a significant contribution to a normal diet, or in the case of herbs a level that is supported by scientific studies.

Some customers have no measure of what constitutes a relevant level for a particular nutrient. That's because there is a huge difference in scale between different nutrients. For example, a relevant dose of Vitamin B12 is 1μg (microgram), but for Vitamin B1 it is 1mg (milligram).

The levels look similar but there is actually a 1000 times difference between a microgram and a milligram. But customers cannot be misled when the nutrient is a vitamin or mineral, because the percentage of the RDA (recommended daily amount) has to be listed on the label, and so there is a clear indication of potency.
| | | |
| --- | --- | --- |
| (20 products) | Items per page: | Sort by: |
| | | |
| --- | --- | --- |
| (20 products) | Items per page: | Sort by: |
View the current status of your purchase and track parcel online.


Call us and find out what supplements will be best for you! Which supplements you can stack! What to take for shaping and what to take for getting fit!
We utilise multiple transport service as we know this is only way to ensure the FASTEST DELIVERY. Best of all orders over £19.00 are FREE (Standard delivery).
Under £19.00, delivery only £1.95


Shopping online is easy and fast at PowerBody.co.uk.

If you prefer to order over the phone, you can call our team on:
(+44) 01904 520 400
The lines are open Monday to Friday:
8:00am to 5:00pm

Other ways to contact us:
Simply fill out the and we will respond to your ASAP.