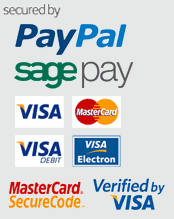 We use Sage Pay, sagepay.com, as our Secure Payment Provider and accept the following methods of payment:
- Visa
- Visa Electon
- Mastercard
Other Payment Methods:
- PayPal
Npro2
Npro2 (eNdurance PROfessional) is originated to provide Olympic and professional athletes with the best possible products. For a long time these products were not available for recreational athletes. The unique blend of ingredients inhibited mass production. Thanks to new production methods the Npro2 products are finally available for every athlete.

Every Npro2 product is developed by world leading experts in the field of food supplements and performance enhancement. Years of research has been done to assure product safety and effectiveness. Npro2 products are produced with the highest standards for quality. Not only are Npro2 products lab tested, they are also field tested by a large group of professional , Olympic athletes. This long path ensures every user that Npro2 products are safe, very effective and 100% doping free. The purchase of a Npro2 product gives everyone the absolute certainty of using the best of the best.
| | | |
| --- | --- | --- |
| (0 products) | Items per page: | Sort by: |
| | | |
| --- | --- | --- |
| (0 products) | Items per page: | Sort by: |
View the current status of your purchase and track parcel online.


Call us and find out what supplements will be best for you! Which supplements you can stack! What to take for shaping and what to take for getting fit!