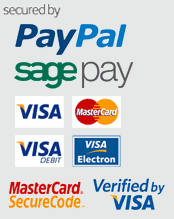 We use Sage Pay, sagepay.com, as our Secure Payment Provider and accept the following methods of payment:
- Visa
- Visa Electon
- Mastercard
Other Payment Methods:
- PayPal
Planetary Herbals
Planetary Herbals have been developed by expert herbalists, focusing predominantly on the thousands of years of experience of Ayurvedic and traditional Chinese herbalism, the hundreds of years of experience of Western herbal practitioners, and the more than 30 years of clinical experience of professional herbalists such as Michael Tierra, Lesley Tierra, Jill Stansbury, and Alan Tillotson.

Each product is designed to promote health, not just make people feel better. Our Full Spectrum singles are designed to provide the best in single ingredient products. Key to this philosophy is attention to detail regarding quality of raw materials.

Planetary Herbal want to integrate traditional herbal wisdom, modern pharmacological science, and human clinical experience into each botanical product, in order to provide consumers and health professionals with reliable, expertly crafted, high quality herbal supplements.
| | | |
| --- | --- | --- |
| (2 products) | Items per page: | Sort by: |
ALL PRODUCTS IN THIS CATEGORY
Planetary Herbals

Health and Wellbeing

£250+ Orders:


£10.49

Our price:


£11.65

Out of stock
| | | |
| --- | --- | --- |
| (2 products) | Items per page: | Sort by: |
View the current status of your purchase and track parcel online.


Call us and find out what supplements will be best for you! Which supplements you can stack! What to take for shaping and what to take for getting fit!