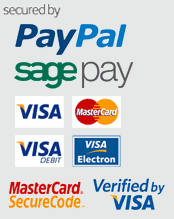 We use Sage Pay, sagepay.com, as our Secure Payment Provider and accept the following methods of payment:
- Visa
- Visa Electon
- Mastercard
Other Payment Methods:
- PayPal
Prolab
Prolab Nutrition Inc. has been providing high-quality sports nutrition products to professional bodybuilders, elite athletes and fitness enthusiasts for over 20 years. Pro lab have helped pioneer a sports-specific approach to athletes' nutrition. They produce scientifically engineered formulas and single-ingredient products which allow athletes to customize a nutritional supplement program to meet specific training and physique goals, as well as, support a healthy active lifestyle.

Pro Lab strive to take the guesswork out of performance supplementation - providing you with the building blocks you need. Pro Lab products feature specialized formulas designed to support training and nutrition goals at every level of an athlete's regime.
| | | |
| --- | --- | --- |
| (21 products) | Items per page: 12> | Sort by: |
Prolab
£250+ Orders:


£24.81

Our price:


£27.57
Prolab
£250+ Orders:


£15.54

Our price:


£17.27

Out of stock
| | | |
| --- | --- | --- |
| (21 products) | Items per page: 12> | Sort by: |
View the current status of your purchase and track parcel online.


Call us and find out what supplements will be best for you! Which supplements you can stack! What to take for shaping and what to take for getting fit!
We utilise multiple transport service as we know this is only way to ensure the FASTEST DELIVERY. Best of all orders over £19.00 are FREE (Standard delivery).
Under £19.00, delivery only £1.95


Shopping online is easy and fast at PowerBody.co.uk.

If you prefer to order over the phone, you can call our team on:
(+44) 01904 520 400
The lines are open Monday to Friday:
8:00am to 5:00pm

Other ways to contact us:
Simply fill out the and we will respond to your ASAP.