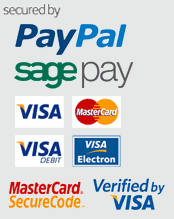 We use Sage Pay, sagepay.com, as our Secure Payment Provider and accept the following methods of payment:
- Visa
- Visa Electon
- Mastercard
Other Payment Methods:
- PayPal
ProMera Sports
CON-CRET creatine has been IOC profiled by Aegis Sciences, one of the top forensic drug doping labs to ascertain product purity.

StayActiv, a natural pain and anti- inflammatory remedy is the result of over six years of clinical studies and research at two major Division 1 University Medical Centers as an alternative to NSAIDs (non-steroidal anti-inflammatory drugs).

Pro-mera go above and beyond the industry requirements to ensure that their products are only delivering safe and effective products.

ProMera health's goal has one purpose, develop and deliver the finest products available in the sports nutrition and wellness markets. choosing only align themselves with companies and partners who share similar philosophies and practices in safety and compliancy.
| | | |
| --- | --- | --- |
| (30 products) | Items per page: 12> | Sort by: |
| | | |
| --- | --- | --- |
| (30 products) | Items per page: 12> | Sort by: |
View the current status of your purchase and track parcel online.


Call us and find out what supplements will be best for you! Which supplements you can stack! What to take for shaping and what to take for getting fit!
We utilise multiple transport service as we know this is only way to ensure the FASTEST DELIVERY. Best of all orders over £19.00 are FREE (Standard delivery).
Under £19.00, delivery only £1.95


Shopping online is easy and fast at PowerBody.co.uk.

If you prefer to order over the phone, you can call our team on:
(+44) 01904 520 400
The lines are open Monday to Friday:
8:00am to 5:00pm

Other ways to contact us:
Simply fill out the and we will respond to your ASAP.