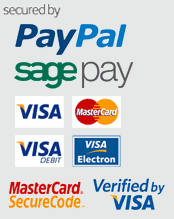 We use Sage Pay, sagepay.com, as our Secure Payment Provider and accept the following methods of payment:
- Visa
- Visa Electon
- Mastercard
Other Payment Methods:
- PayPal
SciTec
Founded in 1996, SCITEC NUTRITION has established itself as one of the largest manufacturers. The company has its own 18,000 m2 factory. SCITEC is one of the largest manufacturers of whey protein powders, with 120 million servings sold yearly!

In this competitive world, an honest company must still strive to release products only with working, proven ingredients, even if that means they may seem less "innovative". Scitec Nutrtion believe that this is the only way. Scitec work with products that have scienctificly proven and "gym tested" ingredients for proven results. Scitec feel that when you train hard you deserve products that are going to work just as hard for you, to help you reach your goals!

SCITEC NUTRITION is famous for its delicious shake flavors which helps makes adhering to a meal plan a lot easier, a critical factor especially when dieting!
| | | |
| --- | --- | --- |
| (194 products) | Items per page: 12345...> | Sort by: |
| | | |
| --- | --- | --- |
| (194 products) | Items per page: 12345...> | Sort by: |
View the current status of your purchase and track parcel online.


Call us and find out what supplements will be best for you! Which supplements you can stack! What to take for shaping and what to take for getting fit!
We utilise multiple transport service as we know this is only way to ensure the FASTEST DELIVERY. Best of all orders over £19.00 are FREE (Standard delivery).
Under £19.00, delivery only £1.95


Shopping online is easy and fast at PowerBody.co.uk.

If you prefer to order over the phone, you can call our team on:
(+44) 01904 520 400
The lines are open Monday to Friday:
8:00am to 5:00pm

Other ways to contact us:
Simply fill out the and we will respond to your ASAP.