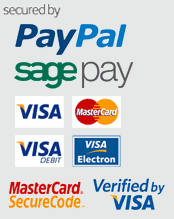 We use Sage Pay, sagepay.com, as our Secure Payment Provider and accept the following methods of payment:
- Visa
- Visa Electon
- Mastercard
Other Payment Methods:
- PayPal
Species Nutrition
Species Nutrition was created by the world renowned Dave Palumbo.

After extolling the virtues of non-stimulant based fat burners for the last 10 years, a synergism of compounds for Dave Palumbo to put his name to and that species nutrition were proud of was found. LIPOLYZE and SOMALYZE were the synthesis of years of trial and error.

The SPECIES line of products will continue to champion original thinking and will carry on with that thought process. Remember, the Theory of Natural Selection insists that only the "fit" survive!
| | | |
| --- | --- | --- |
| (9 products) | Items per page: | Sort by: |
ALL PRODUCTS IN THIS CATEGORY
Species Nutrition

Health and Wellbeing

£250+ Orders:


£23.74

Our price:


£26.38

Out of stock
| | | |
| --- | --- | --- |
| (9 products) | Items per page: | Sort by: |
View the current status of your purchase and track parcel online.


Call us and find out what supplements will be best for you! Which supplements you can stack! What to take for shaping and what to take for getting fit!