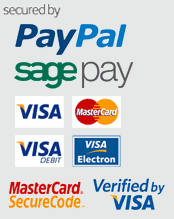 We use Sage Pay, sagepay.com, as our Secure Payment Provider and accept the following methods of payment:
- Visa
- Visa Electon
- Mastercard
Other Payment Methods:
- PayPal
Sun Chlorella
Sun Chlorella are providing those who desire health with valuable nutritional supplements that of course include chlorella. At first chlorella was in the spotlight as an ideal food resource because of its highly efficient use of light energy and its high protein content, but subsequent research showed it to be a plant of far more importance than previously understood.

Sun chlorella also research and development of other nutritional supplements including eleuthero, a relative of Korean ginseng, as well as agaricus, which is in some products to further promote.

Sun chlorella dedicate themselves wholeheartedly to providing health food of great value to achieve the goal of truly healthy society by helping people live longer, healthier lives.
| | | |
| --- | --- | --- |
| (1 products) | Items per page: | Sort by: |
| | | |
| --- | --- | --- |
| (1 products) | Items per page: | Sort by: |
View the current status of your purchase and track parcel online.


Call us and find out what supplements will be best for you! Which supplements you can stack! What to take for shaping and what to take for getting fit!
We utilise multiple transport service as we know this is only way to ensure the FASTEST DELIVERY. Best of all orders over £19.00 are FREE (Standard delivery).
Under £19.00, delivery only £1.95


Shopping online is easy and fast at PowerBody.co.uk.

If you prefer to order over the phone, you can call our team on:
(+44) 01904 520 400
The lines are open Monday to Friday:
8:00am to 5:00pm

Other ways to contact us:
Simply fill out the and we will respond to your ASAP.