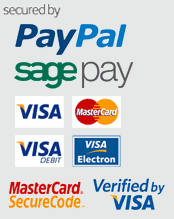 We use Sage Pay, sagepay.com, as our Secure Payment Provider and accept the following methods of payment:
- Visa
- Visa Electon
- Mastercard
Other Payment Methods:
- PayPal
Twinlab
David Blechman leveraged his 20 years of expertise in the pharmaceutical industry to develop and market a liquid protein supplement. Working out of his family's garage, he and his wife named their developing business Twinlab.
Since 1968, the Twinlab brand has been the trusted leader for innovative, high performance health and wellness products. With an extensive line of vitamins, minerals and sports nutrition formulas.

Twinlab's plant in American Fork, UT, is a NSF GMP registered facility from which they manufacture, package and distribute over 1,000 premium quality products. The NSF program verifies that Twinlab's manufacturing plant has met NSF International's stringent independent registration process guidelines, which include facilities and manufacturing process inspections and reviews to assure compliance with NSF's rigorous banned substances standards. Facilities registered GMP by NSF confirm to the highest verification process including ongoing monitoring via two annual facility inspections, to ensure continued compliance with program requirements.
| | | |
| --- | --- | --- |
| (52 products) | Items per page: 123> | Sort by: |
Twinlab
£250+ Orders:


£22.62

Our price:


£25.13
Twinlab
£250+ Orders:


£14.90

Our price:


£16.56
Twinlab
£250+ Orders:


£11.67

Our price:


£12.97
| | | |
| --- | --- | --- |
| (52 products) | Items per page: 123> | Sort by: |
View the current status of your purchase and track parcel online.


Call us and find out what supplements will be best for you! Which supplements you can stack! What to take for shaping and what to take for getting fit!
We utilise multiple transport service as we know this is only way to ensure the FASTEST DELIVERY. Best of all orders over £19.00 are FREE (Standard delivery).
Under £19.00, delivery only £1.95


Shopping online is easy and fast at PowerBody.co.uk.

If you prefer to order over the phone, you can call our team on:
(+44) 01904 520 400
The lines are open Monday to Friday:
8:00am to 5:00pm

Other ways to contact us:
Simply fill out the and we will respond to your ASAP.