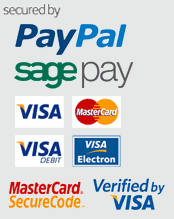 We use Sage Pay, sagepay.com, as our Secure Payment Provider and accept the following methods of payment:
- Visa
- Visa Electon
- Mastercard
Other Payment Methods:
- PayPal
Sport Supplements Sales Advisor

Basic Salary: £15.000 - £19.000 - depending on work experience

If you are a highly motivated and enthusiastic individual who strives to give the best customer service and looking to join a small but very successful team at rapidly growing internet retailer of sport supplements this role could provide you with the ideal opportunity.

Duties include:

- Inbound calls/phone orders
- Order processing
- Order chasing
- Dealing with 3rd party logistics firm
- Replaying to emails
- Making sure that all customers' needs are met
- Running our Facebook page, forum and blog
- Writing articles about supplements, nutrition and training

Candidate should:

- have previous experience in as similar role
- be charismatic and dedicated to his work
- have very good customer service and problem solving skills
- be a good team player and a good communicator
- be highly self motivated and organised
- be numerate and IT literate

Eastern Europeans are large group of our customers therefore previous experience with their culture is obligatory.

To apply please send your CV and covering letter to jobs@powerbody.co.uk. Covering letter must fully explain how your qualifications and experience suits this role and why you would be the best candidate for the position.
View the current status of your purchase and track parcel online.


Call us and find out what supplements will be best for you! Which supplements you can stack! What to take for shaping and what to take for getting fit!
We utilise multiple transport service as we know this is only way to ensure the FASTEST DELIVERY. Best of all orders over £19.00 are FREE (Standard delivery).
Under £19.00, delivery only £1.95


Shopping online is easy and fast at PowerBody.co.uk.

If you prefer to order over the phone, you can call our team on:
(+44) 01904 520 400
The lines are open Monday to Friday:
8:00am to 5:00pm

Other ways to contact us:
Simply fill out the and we will respond to your ASAP.