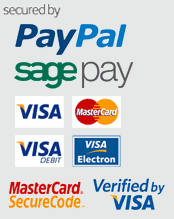 We use Sage Pay, sagepay.com, as our Secure Payment Provider and accept the following methods of payment:
- Visa
- Visa Electon
- Mastercard
Other Payment Methods:
- PayPal



Supplement Stacks



For the bodybuilder and athlete, progressive physique enhancement and physical performance are a continuous theme and we all know that diet and supplements are the key to a successful training program. Any hard training bodybuilder or athlete incorporates the staple supplements such as Creatine and Whey protein along with the right diet and fat burners. Stacks and kits are ready to use and incorporate all these supplements you need for your optimal performance.



Subcategories:



---
---
| | | |
| --- | --- | --- |
| (1 products) | Items per page: | Sort by: |
ALL PRODUCTS IN THIS CATEGORY
| | | |
| --- | --- | --- |
| (1 products) | Items per page: | Sort by: |
View the current status of your purchase and track parcel online.


Call us and find out what supplements will be best for you! Which supplements you can stack! What to take for shaping and what to take for getting fit!