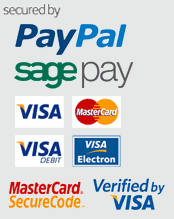 We use Sage Pay, sagepay.com, as our Secure Payment Provider and accept the following methods of payment:
- Visa
- Visa Electon
- Mastercard
Other Payment Methods:
- PayPal
PowerBody.co.uk launched online trading with an ambition to be the UK's number one sports supplement retailer. We push the limits of all the products we offer, whilst remaining the value alternative.

We continually strive to beat the competition on both price and service. Match this with top quality supplements and incredibly fast delivery and you'll never look at another supplement retailer again.
Highest Quality Sports & Bodybuilding Supplements. Our product range of 50+ lines is another reason why PowerBody.co.uk is your total solution for all your supplementation needs!

Fast Shipping - We utilise multiple transport services as we know this is the only way to ensure the fastest delivery. Best of all, orders over £19 GBP are FREE (Standard delivery).
First Class Customer Service - Just one of the differentiating factors that keep us ahead is the service we provide. Most customers are surprised when they receive a personal email from us letting them know when to expect their delivery.
Easy Ordering & Payment Options - We believe our shopping ordering system is so simple that just about anyone can use it. It's just like dropping down to your local supplement store, but without the huge price tag! We also offer our customers multiple ways to pay, which makes your life much easier.
Our office as well as the warehouse is located in York. Our warehouse address is:

Power Body Nutrition Ltd.
Unit 6, Hudson Court
York Business Park
YORK, YO26 6RN
United Kingdom

If you have any questions please use our
contact form
PB Team training with
Dorian Yates
Matthew

Matthew, Level 3 REP's qualified personal trainer and a nutritional advisor. He has always had a love for Sports/Training. Competing at high levels for Rugby, Football and cricket. Like many young guys Matthew enjoys going out with friends, watching sports, especially rugby, and being active in the great outdoors. Matthew is currently training 4-5 times a week with the aim to gain some size but is not willing to sacrifice to much leanness. Dream physique would Jaco De Bruyn or Frank Zane.
Nancy

Nancy is a Sports Nutritionist MSc. She has been with the team at PowerBody for almost a year now. She has been involved in competitive sports throughout her entire life, including 12 years of professional Swimming. Recently she has been getting more & more experience training within a gym environment and trains mainly for functional strength, fitness, and health. Nancy uses her knowledge of nutrition and enjoys reading, cooking and travelling. Her main fitness idol is Erin Stern.
Robert

Rob has been part of the PowerBody team coming up to 2 years now. Rob's experience has come from years of Brazilian Jiu Jitsu and MMA so is the man to talk to for fellow competitive fighters. As well as his fighting and training in the Gym, Rob also likes to follow European Economy and Politics and also enjoys cooking . Rob isn't particularly training for size or image, and he actively holds back from gaining too much to maintain fighting weight and speed/endurance. His idol is Fedor Emelianenko.
Mario

Mario, has been part of team at powerbody.co.uk since the beginning. His main passion is his Bodybuilding and Gym training. Outside of his gym life it is benefited with his knowledge of medicine as well as supplement use. Mario also likes his technology and computers. After years of building size Mario is now aiming to work on his lean and Vascular look doing 3/4 times weight training a week and 1/2 times cardio. Kevin Levrone and Arnold are his idols.
David Bart

David has been with PowerBody for over 3 years. David's training is mainly for endurance aimed at maintaining his level of cycling and swimming. As well as his passion for these he is a keen studio photographer and likes to stay up to date with the latest gadgets and newest technologies. David cycles 4-6 times a week and is currently a big fan of Bradley Wiggins and Chris Hoy.
Bart

Bart has been with PowerBody for over four years. Bart loves the psychology of sports as well as supplement assistance with his focus mainly on the key ingredients. This stretches into his cooking and nutritional balances. After years of chasing a target weight of 15 stone, Bart now is looking to maintain this and prevent the gain of too much body fat. Being an extreme endomorph this is hard for him, however he has a great knowledge of pre workouts and fat burners. His idol is Kevin Levrone in the world of Bodybuilding.
Isabel

Looking for harmony and a clear layout at Power Body is something that our boys do not always manage. Thankfully we have Isabel, our reliable graphic designer. With imagination and enthusiasm she develops graphics which give character to the PowerBody shop. When she's not in front of her computer she reaches for a pallet and easel. Her inspiration is her cat, that is of course if he doesn't decide to bite through her MacBook cable.
Martin

Martin is looking for new challenges in work, so finding new ways of accomplishing his aims brings him pleasure. Right now he is doing everything to improve PowerBody, so that it is even better and more reliable. Martin is a football fan and only out of modesty he won't let himself to be compared to Diego Maradona ;)
Michael

Nothing brings Michael more pleasure than being a part of a big project like PowerBody. His hobby is PHP Zend framework, Magento and other popular frameworks. He also enjoys swimming, bike riding and of course his computer, like a real programmer. He is always looking out for the latest gadget releases.
Paul

Paul is the newest addition to PowerBody's IT team, he brings in new ideas and improves usability of the user side of things. He approaches every challenge with a smile on his face. Paul is very keen on football, both playing and watching.
Armand

Armand is an online marketing specialist. He has many years of experience in search engine marketing, usability and web analytics all related to e-commerce. He has been a part of PowerBody team since 2009. Armand's hobbies are tennis, football and also RC Cars.
Chris

Chris enjoys improving the PowerBody website and systems. His passion and enjoyment in both work and privately are logical tasks. Between looking for answers, he likes tennis, football and hard rock music. Like a real professional and modern day man, he ends the day with a cold beer... urmm protein shake that is! ;)
View the current status of your purchase and track parcel online.


Call us and find out what supplements will be best for you! Which supplements you can stack! What to take for shaping and what to take for getting fit!
We utilise multiple transport service as we know this is only way to ensure the FASTEST DELIVERY. Best of all orders over £19.00 are FREE (Standard delivery).
Under £19.00, delivery only £1.95


Shopping online is easy and fast at PowerBody.co.uk.

If you prefer to order over the phone, you can call our team on:
(+44) 01904 520 400
The lines are open Monday to Friday:
8:00am to 5:00pm

Other ways to contact us:
Simply fill out the and we will respond to your ASAP.