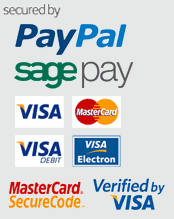 We use Sage Pay, sagepay.com, as our Secure Payment Provider and accept the following methods of payment:
- Visa
- Visa Electon
- Mastercard
Other Payment Methods:
- PayPal
BSN - Lean Dessert Protein, Chocolate Fudge Pudding - 630g
Availability: In stock.


Ready to ship!


More than 3 in stock!

Average Rating
Total ratings 13

You have:

00:00:00


To order for delivery on:
Friday, 24 May
See Details

£19.99

Price:

£17.99

£250+ Orders:

£24.99

Retail price:

£7.00 (28 %)

Saving:

18

Average Servings:

£1.11

Price per portion:

BSN

Brand:
See the reviews of this product on PB Forum:
There's nothing more annoying than waiting for a delivery that never arrives. You won't have that problem with PowerBody. We deliver when we say we will - and in the highly unlikely event we're late, we'll apologise and refund your delivery charge in full.
For peace of mind, you can track your order online.
- Select Express delivery at checkout and your order will be delivered the next working day.
- UK Mainland only. Orders will be dispatched by a courier and require a signature.
- Next Day Delivery Service available for all orders pleaced before 1:00 p.m. Monday to Thursday.
- Orders placed on Friday will by delivered on Monday.
It's highly unlikely that Your parcel won't be delivered on time. If it happens somehow, we will refund the delivery charge in full.
Product details
Supplement Summary
Customer Reviews (0)
Lean dessert protein shake is available as a dietary supplement to help manage weight and help muscle growth. The lean dessert protein shake provides the human body with sustained-released proteins, slowly digesting, and quick digesting proteins. It may be included in diets where calories are restricted. Also, the protein shake may be used with a low carbohydrate diet. For people that are focusing on managing their weight, the protein shake can be substituted for a meal. When used as a meal substitute, the lean dessert protein shake combats hunger and regulates the appetite. While the sustained released proteins deliver nutrients over a longer period of time, the quick digesting proteins work to nourish the body quickly and decrease food cravings. Then, slower digesting proteins help the body feel satisfied longer. With the lean dessert protein shake, the special proteins help the body retain muscles while losing fat. Whey protein concentrate, as well as whey protein isolate, and egg albumen(egg white) help to feed nutrients to the body quickly. Some of the slower digesting proteins are milk protein concentrate and calcium caseinate. Micellar caseins and caseinates are part of the sustained released proteins which are combined within a matrix of ingredients. Medium chain triglycerides (MCTs), is an ingredient in the matrix and essential fatty acids (EFAs) is an ingredient as well. In addition, there are glutamine peptides and branch-chain amino acids (BCAAs) along with essential and non-essential amino acids contained in the matrix. To increase digestion and absorption of the proteins, bioactive protein utilization enzymes are included in the matrix. For people that are involved in sports and muscle building activities, the lean dessert protein shake supplies muscle building proteins to tired muscles for approximately 7 hours. The shake helps the body to repair worn and tired muscles and metabolize fat by delivering not only the essentially needed amino acids, but also the non-essential amino acids as well. As a result, the body uses the complete proteins to grow and build lean muscle. Flavor enhancement technology helps flavor the lean dessert protein shake that should be included in a healthy diet.

BSN Lean Dessert Protein Product Details:

Contains a Sustained Release Multi-Function Micellar Protein Matrix which provides a precision release of quick and slow digestion protein designed to encourage rapid muscle nitrogen retention followed by a controlled anabolic release of amino acids for up to 7 hours! This special formulated matrix contains the 6 most complete and effective protein sources available for enhancing lean muscle tissue! Designed for athletes and bodybuilders who need a superior protein matrix to help them meet their nutritional requirements and physique goals! Contains Bioactive Protein Utilization Enzymes that promote optimum protein digestion and increases amino acid uptake by the muscle. BSN's advanced flavor technology replicates some of the most mouthwatering desserts you have ever tasted. Contains MCT's, EFA's, and Glutamine Peptides, which stimulate energy, fat loss, and lean muscle growth! Designed to be thick and satisfying (helping control your cravings and appetite until your next meal)!
Lean Dessert Protein Shake Highlights:

- Rich in BCAA's and other Essential and Non-Essential Amino Acids!
- Low in carbs and fat (ideal for low carb/low fat lifestyles)!
- Low in Lactose (less than 1 gram per serving)!
- No Aspartame of Acesulfame-K!



BSN Lean Dessert Protein Supplement Facts:


Serving Size: 1 Heaping Scoop (35g)
Servings Per Container: 18

Amount Per Serving:
Calories 130
-Calories From Fat 25
Total Fat 3g 5%
-Saturated Fat 2g 10%
Cholesterol 52mg 17%
Total Carbohydrates 7g 2%
-Dietary Fiber 1g 4%
-Sugars 3g
Protein 20g 40%
Calcium 320mg 32%
Phosphorus 200mg 20%
Magnesium 40mg 10%
Sodium 100mg 4%
Potassium 125mg 4%

ELG Stimulators (energy, leaning and growth) 2.8g
-Glutamine Peptides
-Canola Oil
-MCTs

Protein Utilization Enzymes 70 mg
-Aminogen
-Pepain



BSN Lean Dessert Protein Ingredients:


A Sustained Release Multi-functional Micellar Protein Matrix Comprised of (Unfiltered Whey Protein Concentrate [Milk] Containing Alpha-Lactalbumin, Micellar Alpha and Beta Caseins and Caseinates [Milk], Microfiltered Whey Protein Isolate [Milk] Containing Whey Isolate Peptide Fractions, Egg Albuman [Egg], Calcium Caseinate [Milk], Milk Protein Concentrate [Milk]), Dutch Process Cocoa, Maltodextrin, Corn Syrup Solids, Natural and Artificial Flavors, Vegetable Gum, Xanthan Gum, Carrageenan, Sucralose, Mono & Di Glycerides, Sodium Alginate, And Lecithin [Soy].



BSN Lean Dessert Protein Directions:





Recommended Use for Males:


Take 2 heaping scoops of BSN Lean Dessert Protein (equaling 40 grams of protein) with 8-10 oz. of cold water or any beverage or your choice. Vary the amount of liquid to achieve your desired consistency. Drink 2-4 servings daily, or as needed to satisfy your protein or muscle enhancing requirements. To increase your protein intake per serving and to achieve an amazing milk shake taste, use non-fat or low fat milk.



Recommended Use for Females:


Take 1 heaping scoop of BSN Lean Dessert Protein (equaling 20 grams of protein) with 4-5 oz. of cold water or any beverage or your choice. Vary the amount of liquid to achieve your desired consistency. Drink 2-4 servings daily, or as needed to satisfy your protein or muscle enhancing requirements. To increase your protein intake per serving and to achieve an amazing milk shake taste, use non-fat or low fat milk or your favorite soy beverage.



Warnings:


Very low calorie protein diets (below 400 calories per day) may cause serious illness or death. Do not use for weight reduction in such diets without medical supervision. Not for use by infants, children, or pregnant or nursing women.
10/10 (based on 13 Ratings and 0 Reviews)
---
Product ratings and reviews help users make purchasing decisions and improve your shopping experience. Product star ratings provide information about how other users rate a product and based on a 1 to 10 star scale. Product reviews are written by users and provide more details about products.
Please login to write review or rate product.
Customers Who Bought Lean Dessert Protein, Chocolate Fudge Pudding - 630g Also Bought:
View the current status of your purchase and track parcel online.


Call us and find out what supplements will be best for you! Which supplements you can stack! What to take for shaping and what to take for getting fit!
We utilise multiple transport service as we know this is only way to ensure the FASTEST DELIVERY. Best of all orders over £19.00 are FREE (Standard delivery).
Under £19.00, delivery only £1.95


Shopping online is easy and fast at PowerBody.co.uk.

If you prefer to order over the phone, you can call our team on:
(+44) 01904 520 400
The lines are open Monday to Friday:
8:00am to 5:00pm

Other ways to contact us:
Simply fill out the and we will respond to your ASAP.