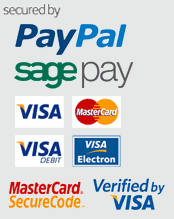 We use Sage Pay, sagepay.com, as our Secure Payment Provider and accept the following methods of payment:
- Visa
- Visa Electon
- Mastercard
Other Payment Methods:
- PayPal
Universal Nutrition - Animal Cuts - 42 packs
Availability: In stock.


Ready to ship!


More than 50 in stock!

Average Rating
Total ratings 365

You have:

00:00:00


To order for delivery on:
Friday, 24 May
See Details

£35.79

Price:

£32.21

£250+ Orders:

£47.60

Retail price:

£15.39 (32 %)

Saving:

42

Average Servings:

£0.85

Price per portion:

Universal Nutrition

Brand:
There's nothing more annoying than waiting for a delivery that never arrives. You won't have that problem with PowerBody. We deliver when we say we will - and in the highly unlikely event we're late, we'll apologise and refund your delivery charge in full.
For peace of mind, you can track your order online.
- Select Express delivery at checkout and your order will be delivered the next working day.
- UK Mainland only. Orders will be dispatched by a courier and require a signature.
- Next Day Delivery Service available for all orders pleaced before 1:00 p.m. Monday to Thursday.
- Orders placed on Friday will by delivered on Monday.
It's highly unlikely that Your parcel won't be delivered on time. If it happens somehow, we will refund the delivery charge in full.
Product details
Customer Reviews (1)
Animal Cuts from Universal is a supplement combining more than 28 active ingredients into a high powered and convenient fat shredding aid for serious body builders. Beyond building muscle, it is also necessary to lose fat and water from the body so that the body looks cut. Traditional cutting supplements focus on thermogenesis alone. Thermogenesis is the process of using heat to cut the fat from the body. Most thermogenesis supplements are based upon a combination of ephedrine, caffeine, and aspirin-derivatives. Animal Cuts supplements have thermogenesis effects, but also to stimulate metabolism, focus, dieresis, muscle preservation, and thyroid function. This complete formula is designed to address all muscle cutting issues and overcome them.

These packs come in sets of 42 and are designed to be taken twice a day for three weeks, followed by one week off. This simple regimen will facilitate the advanced body builder in reaching their goals.


---

Animal Cuts Product Details:

Cardio sucks. There's no beauty or grace in it. You're not moving huge weight. It's just painful. But you do it because you have to-a necessary evil. Whether you're preparing for a show or just trying to get in top condition, you need the raw power of Animal Cuts Make no mistake about it, Animal Cuts is unlike anything out there. It's an uncompromising "cutting" supplement that has been designed to produce professional results for bodybuilding competitions.

Unlike most conventional "fat burners" out there, Animal Cuts is more than just a thermogenic. It is a comprehensive and complete formula. Take a look at the leading fat burner. It might contain ephedrine, caffeine, possibly an aspirin-derivative, and a few other ingredients sprinkled in. Make no mistake about it-this is a thermogenic product and only a thermogenic product. These basic ingredients make up the classic E/C/A stack that most people find effective (up to 95% of all fat burners are based on this model). But the fact is, the E/C/A stack may not work well for everyone. Maybe you've been on the E/C/A stack for a while now. Maybe you drink a lot of coffee in the morning and soda throughout the day. The human body can easily become desensitized to the ingredients in this stack after prolonged use, thus reducing its effectiveness.

For some athletes, the problem may even transcend thermogenesis. Your problem, for instance, might be releasing stored bodyfat. Or maybe you have a sluggish thyroid (thyroid hormones directly control your body's metabolism). You might be insulin-resistant, a condition which makes it extremely difficult to shed bodyfat. Impaired neurotransmitter function can also make life difficult, encouraging bingeing. Perhaps your problem is not fat at all, but subcutaneous water weight. After all, you can come in with low bodyfat levels, but if you're holding subcutaneous water, you're cooked.

The point is, athletes need to overcome many obstacles in order to achieve maximum cuts and separations. So if you've had little success with conventional "fat burners" in the past, or if results have stopped coming, then don't be frustrated. It might be that you simply chose the wrong fat burner. Only Animal Cuts is guaranteed to address all of your weight-loss and definition needs. Animal Cuts is comprehensive; each convenient pak delivers over 28 active ingredients. Every day, for 21 consecutive days, you'll get nearly 7400 milligrams of pure fat shredding power. If you're competing tomorrow, then you need Animal Cuts today.



Animal Cuts Supplement Facts:


Serving Size: 1 Pack
Servings Per Container: 42

Amount Per Pack:

Thermogenic Complex 750mg
Caffeine Anhydrous, Kola Nut (seed), Guarana (seed), Yerba Mate (leaf), Raspberry Ketones, Coleus Forskohlii (root)

Metabolic Complex 750mg
Green Tea Extract (Polyphenols/EGCG), Oolong Tea Extract (Polyphenols), Black Tea Extract (Polyphenols), Coffee Bean Extract (Polyphenols), White Tea Extract (Polyphenols)

Thyroid Complex 350mg
L-Tyrosine, Olive Leaf Extract (15% Oleuropein), Salvia Officinalis (leaf)

Diuretic Complex 800mg
Dandelion Root (Taraxol, Taraxerol), Uva Ursi Leaf (Arbutin, Methyl-Arbutin), Hydrangea Root, Buchu Leaf, Juniper Berry Fruit, Celery Seed

Nootropic Complex 500mg
DMAE (Dimethylaminoethanol), Bacopa Monniera (Bacopasides A & B) (leaf), B-Phenylethylamine (B-PEA), Huperzine A

Cortisol Inhibiting Complex 300mg
Ashwangandha Extract (Withanolides), Rhodiola Rosea (Rosavins) (root), SerinAid, Magnolia Bark Extract

CCK Boosting Complex 300mg
Cha-De-Bugre (aerial parts), Apple Pectin (fruit), Jojoba Seed Extract (Simmondsin)

Bioavailability Complex 500mg
Ginger Root (Gingerols, Shogaols), Cayenne (fruit), Grapefruit (6,7-Dihydroxybergamottin) (fruit), Quercetin, Naringin (Citrus), Bioperine (fruit)

Animal Cuts Other Ingredients:
Gelatin, DMAE Bitartrate, Dicalcium Phosphate, Microcrystalline Cellulose, Magnesium Stearate, Stearic Acid, Titanium Dioxide, FD&C Blue #1, FD&C Red #40, FD&C Yellow #6, FD&C Yellow #5. Made In A GMP Facility That Uses Milk, Soy, Egg, Peanuts.

Animal Cuts Other Ingredients:
Gelatin, Dicalcium Phosphate, Microcrystalline Cellulose, Magnesium Stearate, Stearic Acid, Titanium Dioxide, FD&C Blue #1, FD&C Red #40, FD&C Yellow #6, FD&C Red #3, FD&C Yellow #5. Made In A GMP Facility That Uses Milk, Soy, Egg, Peanuts.

Animal Cuts Directions:
Take two Animal Cuts packs everyday for three consecutive weeks. Follow a cycle consisting of three weeks on and one week off. After your one week off cycle, you can repeat another three week on cycle until you reach your goals. Take on an empty stomach.



Warnings:


Do not take if pregnant or nursing. Not for use by those under the age of 18. Consult a physician before using this product if you have any medical condition.
10/10 (based on 365 Ratings and 1 Reviews)
---
Please login to write review or rate product.
Jonathan, Bristol, 10-04-2012, 14:40. Product

I really enjoyed this product. I had great results whilst i always had a good mood at the gym. I will highly recommend it to anyone who takes workouts seriously!

Customers Who Bought Animal Cuts - 42 packs Also Bought:
View the current status of your purchase and track parcel online.


Call us and find out what supplements will be best for you! Which supplements you can stack! What to take for shaping and what to take for getting fit!
We utilise multiple transport service as we know this is only way to ensure the FASTEST DELIVERY. Best of all orders over £19.00 are FREE (Standard delivery).
Under £19.00, delivery only £1.95


Shopping online is easy and fast at PowerBody.co.uk.

If you prefer to order over the phone, you can call our team on:
(+44) 01904 520 400
The lines are open Monday to Friday:
8:00am to 5:00pm

Other ways to contact us:
Simply fill out the and we will respond to your ASAP.